Color Stone Lithography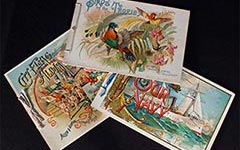 The 1911-12 C55 Imperial Tobacco series of 45 subjects is one of the earliest hockey sets to employ chromolithography—a highly technical process by which images are reproduced in color using grease-based ink on Bavarian limestone. Stone lithography was the invention of German playwright, Alois Senefelder, who sought to develop a method to inexpensively publish some of his playbills during the first half of the 19th century. The surreptitious result was a process that stood largely unrivalled in the application of lavish colors and complex textures for the next 100 years. The quality of the printed images in the C55 series—produced during the "Golden Age" of stone lithography that followed Senefelder's innovation—is without equal in the production of vintage hockey cards. In fact, some printers continue to use stone lighography in modern times due to the unique and classic quality and appearance. This is what makes the C55 Imperial Tobacco set among the most attractive and popular of all vintage hockey issues. In some respects, they are the hockey parallel to the T206 baseball series.
The advantage of stone lithography was that thousands of images could be created before degradation of the original engravings would occur. Prior to the invention and widespread use of Bavarian limestone to develop detailed artwork, steel or copper engravings were employed. Lithographs produced from these processes, however, would often suffer from degradation after less than 100 prints were pulled. Chromolithography thus became the gold standard of printing and is still in use today.
The Artwork
While the first nationally distributed 20th century hockey series, the C56s, were manufactured by using a photolithographic process by which halftone images were transferred onto stone and then printed, the C55s took form from a more involved and detailed image and color application. The specific lithographic technique that adorns the 45 cards and gives them their distinctive appearance is stippling, or the manual application of small, often overlapping, multicolored dots to produce color gradients and shading. This is what transforms a two-dimensional drawing into one that is "three-dimensional" or adds depth to each background.

The original artwork, whatever its size, was likely hand-drawn by an artist and then transferred by a skilled engraver onto a lithographic stone. The process may have utilized a type of lithography whereby a drawn image was created on a heated printing stone through the application of pressure, or it may have employed a more widely used chromolithographic method. It is unknown the exact number of stones that were used but based on the generous pallet and variety of subjects, there may have been a dozen or more. The one existing lithographic stone used to print portions of the 1910-11 C56 hockey series weighs approximately 25 pounds so it can be presumed that the production of the C55 series was time-consuming and relatively expensive.
Imperial Tobacco's Early Hockey Sets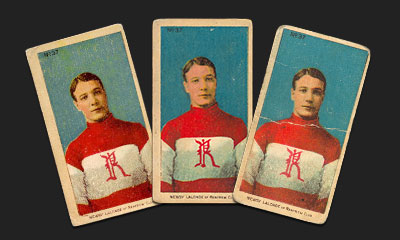 At a time when Edouard "Newsy" Lalonde was the greatest ice hockey and lacrosse player in Canada, the Imperial Tobacco Company of Great Britain took full advantage of Lalonde's popularity by featuring his likeness in four different hockey card sets. Following the tremendously successful debut of the T206 baseball card series in the United States in 1909, Imperial Tobacco, still bound by its non-compete agreement with the American Tobacco Company, established a foothold in Canada and by 1910, had began printing its first set of hockey players—the C56 series. With "Newsy" Lalonde as the primary draw, these miniature tobacco "premiums" were inserted in such brands as Derby Cigarettes and began to attract the interest of eager collectors. The years that followed would yield three more classic vintage hockey card series: C55, C57, and the Sweet Caporal postcards.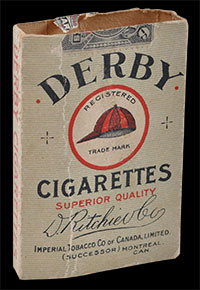 Each of Imperial Tobacco's four early hockey sets is quite distinctive. The C56s and C57s employ actual photographs of the players, as do the Sweet Caporal postcards. The C55s, however, are a product of original art—a complex line drawing expertly transferred onto a printing stone. Since the C56 set of 37 subjects was produced first, it contains the greatest share of "rookie cards"—the first appearance of a player or players in a nationally distributed tobacco card series. No less than twenty different Hall of Fame members make their debut in Imperial Tobacco's premiere hockey set. Three of these players—Art Ross, Jack Marshall, and Newsy Lalonde—appear twice.
The following year, in 1911, Imperial Tobacco turned out its most ingenious artistic undertaking, the C55s, which are primarily known outside of hockey circles for their inclusion of iconic Hall of Fame goalie, Georges Vezina. Line drawings for the C55s were sourced from the same photographs that were used to create the 1911 Sweet Caporal postcards. The two contemporary sets are also parallel to each other since their size and player constituencies are identical. In the case of the Sweet Caporal postcards, however, 45 different players are featured in striking, artistically retouched, black and white photographs. Unlike the other three hockey sets, Imperial Tobacco printed the postcards in England, although they were principally distributed in tobacco products in Canada.
The C57 series followed in 1912 with a group of 39 different players from the prior year as well as generous sampling of eleven new stars. This was the first year that Imperial Tobacco indicated the size of the set with the words "Series of 50" appearing on the back of each card. This final set from Imperial Tobacco was primarily distributed in and around Montreal, where the company had first established a Canadian foothold in 1908. Unlike the origin for C55s, which were likely printed in Toronto, a Montreal location is indicated on cigarette packs in which C57s were inserted.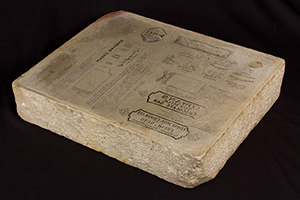 Since their debut in the 1940 supplement to Jefferson Burdick's United States Card Collectors Catalog, the C55, C56, C57 and Sweet Caporal hockey sets have seen a number of important discoveries, many of them occurring in the last thirteen years. In the first set from 1910-11 (designated as "C56"), a 37th card was found in 2000. Since then, four more examples of #37 Newsy Lalonde have been located, all by virtue of their design, whether by print quality or print variation, belonging to one of several different types.
Similar to the T206 Honus Wagner, the 1910-11 C56 #37 Lalonde was thought to have been withdrawn very early in the print run. Like Wagner, Lalonde may have desired additional money for the rights of using his image or Imperial Tobacco may simply have wanted to print a second card of Lalonde but ran into production difficulties and was forced to re-use the first image that had already been designated for card #36. Whatever the case, the recent unearthing of one of the original lithographic stones confirms that #37 Lalonde was indeed printed with the rest of the C56 series. Curiously, the printing differences on both the front and back of each of the five known examples also provide evidence that card #37 was likely a product of more than a single print run. It is possible the last card in the C56 series was short-printed to such a degree that only a handful were produced at any given time, or that only a few sheets of card #37—printed by themselves—ever made their way through the presses.
Perhaps the greatest hockey card find since Burdick's catalog was published is a group of seventeen proofs from the second Imperial Tobacco series—C55. All of the cards from this recently discovered cache have an appearance that is quite different from that of full-production examples that were inserted into cigarette packs. In some cases, such as that of the Georges Vezina proof, the visual differences are so striking that it appears to be a completely different card in the C55 series. By examining these proofs closely, one can also see many of the subtle changes that were made before the final product hit store shelves during the 1911-12 season, and view the earliest and best-printed C55s known.
The 1911-12 C55 Proofs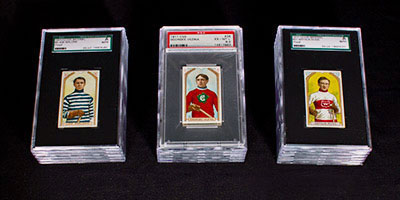 Seventeen different C55 Proofs have recently been discovered and are now encapsulated by SGC (Sportscard Guaranty, LLC.) and PSA (Professional Sports Authenticator). These distinct cards were created by Imperial Tobacco in Toronto in 1911 to test both the printing process as well as to further refine each card before production. To date, they are the only C55 proof cards known.
They include:
#4 Joe Malone (RC, HOF), #6 Tom Dunderdale (HOF), #13 Alex Currie, #17 Jack Darragh (HOF), #19 Don Smith, #22 Larry Gilmour, #26 Skein Ronan, #28 Ernie Johnson (HOF), #29 Jack Marshall (HOF), #30 Harry Hyland (HOF), #31 Arthur Ross (HOF), #33 Gordon Roberts (HOF), #35 Ernest Russell (HOF), #37 James Gardiner (HOF), #38 Georges Vezina (RC, HOF), #40 Rocket Power, and #45 Jack Laviolette (HOF).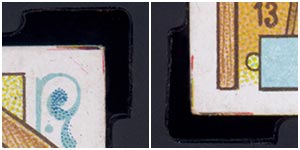 Most of the C55 Proof cards have red and black crop marks near one or more corners, although some have printing guides that include blue and yellow. There is also a noted difference in the clarity of each card since proofs were run on a clean lithographic stone, allowing for the proper application of each color with greater precision and registration. The resulting images are much sharper and more vivid than those on a regular card pulled from a pack of cigarettes.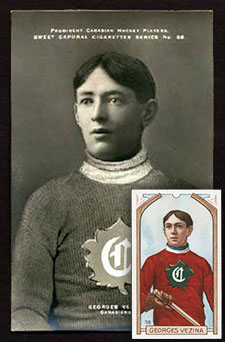 Other distinctions between the proofs and regular-issue C55s include textual differences on the obverse and reverse. In particular, the proof cards of Joe Malone and Tom Dunderdale are missing the line of text on back that indicates where they were born. Other oddities include Art Ross's proof which has no period after the number on front, Alex Currie's proof which has no period after his first name on both the front and back, and Jack Laviolette's proof in which the text is divided differently on the reverse side. There are also a few letters that are shaped differently or have varying widths, such as the "C" and "E" on the back of the proofs of Malone and Dunderdale.
Another obvious difference is the style of text on the back of each proof. The lines that form each letter are generally more narrow and sharper than those on the regular cigarette cards. And, due to the greater precision in printing, the words "Hockey Players" that headline each player's name and brief bio, appear to be rendered in letters of greater width and thickness.
Two of the proofs possess small staple holes near their top borders: #4 Joe Malone and #6 Tom Dunderdale. We can only speculate that these two proofs were among a small group of cards at the beginning of the set that were at one time attached to a display board. Surviving pre-production test boards from Topps perhaps shed some light on this mystery—the test boards usually contained a number of proof or test cards that were presented at company meetings, typically to introduce a new product. Dunderdale and Malone may have been two such test subjects as executives at Imperial Tobacco were getting ready to print the first group of hockey cards in 1911.
View all seventeen 1911-12 C55 Imperial Tobacco hockey proofs.